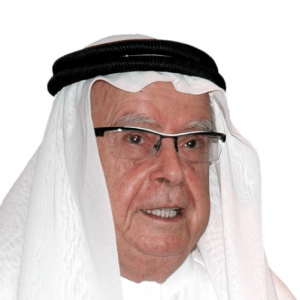 Dr. Walid Amen AlKayyali is a Saudi businessman of Palestinian descent, who was born in Jaffa in 1933. Dr. AlKayyali played a prominent role in developing the pharmaceutical industry in both Saudi Arabia and the entire region, and is referred to as the father of the drug industry.
He established Al-Hayat Medical Company in 1967, a company that today is one of Saudi Arabia's most prominent distributors of global pharmaceutical brands, and currently serves as the chairman of its board of directors.
Dr. AlKayyali is a pioneer in the pharmaceutical industry, establishing a number of factories in pharmaceuticals and medical solutions. He established Medical and Cosmetics Products Company Ltd. (MCPC – Riyadh Pharma), which is considered one of the largest pharmaceutical factories in the Kingdom of Saudi Arabia. He was also pivotal in the establishment of the National Antivenom and Vaccine Production Center in Saudi Arabia, and is one of the most prominent supporters of the pharmaceutical profession in Saudi Arabia.
Dr. AlKayyali is an avid supporter of scientific research and established the Dr. Walid AlKayyali Chair for Pharmaceutical Industries at the King Saud University in Riyadh in 2007, in order to strengthen the Kingdom's position in the field of pharmaceutical industry technology, as well as to provide the necessary services in basic and advanced applied research in pharmaceutical technology.
Moreover, Dr. AlKayyali established the Pharmacy College building in An-Najah National University in Nablus, Palestine which is named after him "College of Dr. Walid Amin AlKayyali for Pharmacy – Jaffa – Riyadh". He also co-established with Mr. Mohammed Omran Bamiyh a sports' stadium at Birzeit University in Palestine.
Furthermore, he actively promoted the Welfare Association's mission of supporting Palestinian society in the field of sustainable development.