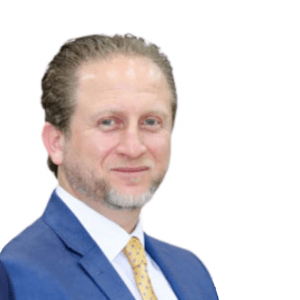 Mr. Zuhair Osaily is the CEO and founder of Excellence Trading and Contracting, a subsidiary of Osaily Group, established in 2011 and distributes global brands including Sony, Siemens, Construca and Samix.
Mr. Osaily began his career with APIC group in 1998 as a brand manager with Unipal General Trading Company, a subsidiary of APIC that is the leading FMCG in Palestine and sole distributer for major multinationals such as Philip Morris International, Procter & Gamble, Kellogg's, KraftHeinz, Ferrero, XL Energy Drink, Americana among many others where he was responsible for the development and implementation of market strategies, logistics, as well as monthly and yearly budgets. In 2000, he was appointed sales and marketing manager at Medical Supplies and Services (MSS), another subsidiary of APIC and the sole distributor and service provider for major multinationals including GlaxoSmithKline, Sanofi-Aventis, Abbott, Beiersdorf (Nivea), GE Healthcare, Eli Lilly among many others, where he worked on designing and developing market strategies, following up on operations forecasts, and developing overall pricing strategies for the company's various lines of business. Mr. Osaily then moved to APIC subsidiary, Arab Palestinian Shopping Centers Company (Bravo) as CEO in 2004.
In 2015, he established Integrated Health and Safety Company, one of the biggest suppliers of food, tactical wear and boots for the Palestinian National Authority, where he serves as chairman of the board as well as managing director.
Mr. Osaily is chairman of the board of numerous Palestinian companies and associations, including Young Entrepreneurs Palestine (YEP), Al-Mustakbal Foundation for Strategic and Policy Studies (AMF) and Integrated Health & Safety, and a board member of Vegetable Oil Industries Company, Palestine Electric Company (PEC), Excellence Trading & Contracting, O-cell Mobiles & Technology, Tamkeen Insurance Company and Household International and Palestine SME Enhancement Institute.
Mr. Osaily graduated with a degree in Business Administration from Al-Ahliyya Amman University in 1997. He completed a three-month training course with Philp Morris Egypt on sales and distribution, as well as a banking and investment seminar with Cairo-Amman Bank Jordan. He has also regularly taken part in workshops with multinationals including Beiersdorf (Nivea), Philip Morris International and Procter & Gamble.