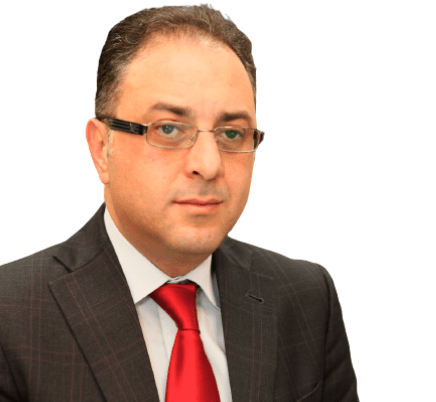 Mr. Anabtawi is General Manager of the National Aluminum and Pro les Company, where he manages the company's overall administrative and operational tasks. Mr. Anabtawi previously held the position of a Local Project Advisor for the German Technical Cooperation Agency (GTZ), where he was responsible for implementing the business start-up program.
Previously in Dusseldorf, Germany, he was a Designer and Quality control Manager for EXCEPT Messedesign Planung. During this period Mr. Anabtawi was responsible for designing and implementing booth stands for exhibitions set-up and space allocation for di erent clients, and was appointed as the client Service Manager to Arab countries participating in German exhibitions.
Since the begining of his career, Mr. Anabtawi has taken part in various training courses in the elds of management, client services, and implementation.
He also serves as the resident representative of the delegate of German Industry and Trade in Palestine (DIHK/AHK).
Mr. Anabtawi received his Bachelor of Arts in Product Engineering from the University for Applied Studies in FH-Dortmund, Germany.
Position Held & Date:
1997 Designer and Quality Control Manager for EXCEPT Messedesign Planung inDusseldorf- Germany
1998 Local Project Advisor for the German Technical Cooperation Agency(GTZ)-Palestine
2000 Executive Manager of the German Industry and Trade (DIHK/AHK)-Germany 2004 Resident Representative of the delegate of German Industry and Trade in Palestine (DIHK/AHK)-Palestine
2007 General Manager- National Aluminum and Profiles Company (NAPCO)-Palestine
Activities:
REFA Training in Factory Organization
CEFE, National Trainer Licence GTZ/CEFE trainer for Palestine
CEFE Upgrading Course, Senior Trainer
P3U Certified trainer by GTZ
TAMKEEN program local trainer
Member in Palestinian Businessmen Association
Member in Palestine Trade Centre
Member in Young Presidents Organization (YPO)
Member in Palestinian Metal Industries Association
Member in American Palestinian Chamber of Commerce (Board member)
Consultancies:
Conducted a GAP Analysis, for DURACOM Contracting and Tele Company, as an introduction for ISO 9000 Certi cation through the RAMA Consulting Firm (July 2000).
Conducted a GAP Analysis for ISO 9000 Certification for a General metal casting and recycling company through RAMA Consulting Firm (July 2000).
Concept development for a "Project Management" pilot Project in Palestine, for INWENT Foundation in Germany (December 2003)