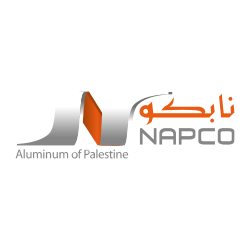 National Aluminum And Profile Company (NAPCO)
The first aluminum profiles manufacturer in Palestine
Founded in 1991, and acquired by APIC in 1995, NAPCO is the first aluminum profiles manufacturer in Palestine. It is a public shareholding company and is listed on the Palestine Exchange (PEX: NAPCO). Located in Nablus, and originally launched to serve the needs of the local market, NAPCO's state-of-the-art 28,000-square-meter plant has an annual production capacity of over 7,000 tons of high-quality products that comply with international standards and specifications. NAPCO's innovative and enduring product solutions have penetrated regional markets, and the company's profile systems serve numerous architectural and industrial branches.
NAPCO has a branch office in Jordan for the purpose of seizing opportunities in the Jordanian market, as well as make the country a foothold for expansion in neighboring Arab markets. NAPCO also has two representative offices, one in Ramallah and one in Gaza.
In line with NAPCO's vision to offer integrated engineering solutions, and in order to keep up with the latest global trends of utilizing renewable energy and environmentally-friendly natural resources, it offers integrated solar energy solutions through its affiliate Qudra Energy Solutions Company, including design, supply, installation, supervision, quality assurance inspections as well as after-sales services through a team of highly-qualified engineers and experts who use the latest systems with the best international standards.
NAPCO is accredited by both the Palestine Standards Institution and Lloyd's Register Quality Assurance Certificate in Occupational Health & Safety (OHSAS 18001:2007) and has also received the International Quality Coating Certificate (QUALICOAT).
CEO: Mr. Anan Anabtawi
Contact Information
Email: info@napco.com.ps
Headquarters
Beit Iba, Qusin Junction, Nablus
Tel: +970 9 234 7222
Fax: +970 9 234 7616